Providing high
quality dental
care for 20 years
Providing high quality NHS and Private Dental Care, Implants, Orthodontics, Periodontics and Cosmetic Dentistry since 1996.
Make an appointment today >
Quality dental
care for all
We have some of the most qualified and
specialised dental surgeons in the
North West of England.
Dental clinic >
Helping you
achieve a healthy,
beautiful smile
Specialist orthodontic treatment combining the latest in
orthodontic technology and 20 years of experience
Orthodontic clinic >
Striving to provide
excellence in
implant dentistry
Mr Gary Hills is considered one of the most
experienced 'Dental Implantologists' in this
specialist field. He has placed to-date over
4000 dental implants.
Implant centre >
Welcome to St Annes Dental Clinic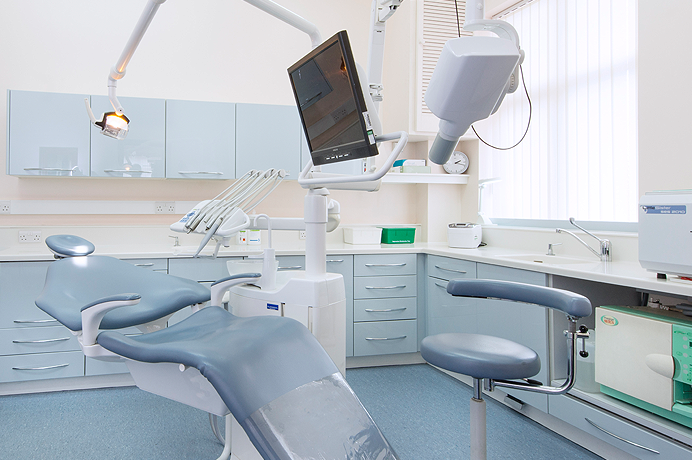 We are a well established Dental Clinic based in the Fylde Coast, provides high quality NHS Dental Care and offers a private referral facility to other dentists in the North West for specialist dental treatments including Dental Implants, Orthodontics, Periodontics (gum treatments) and Cosmetic Dentistry. Our dental team consists of 6 dentists that have a variety of skills including some of the most qualified and specialised dental surgeons in the North West of England.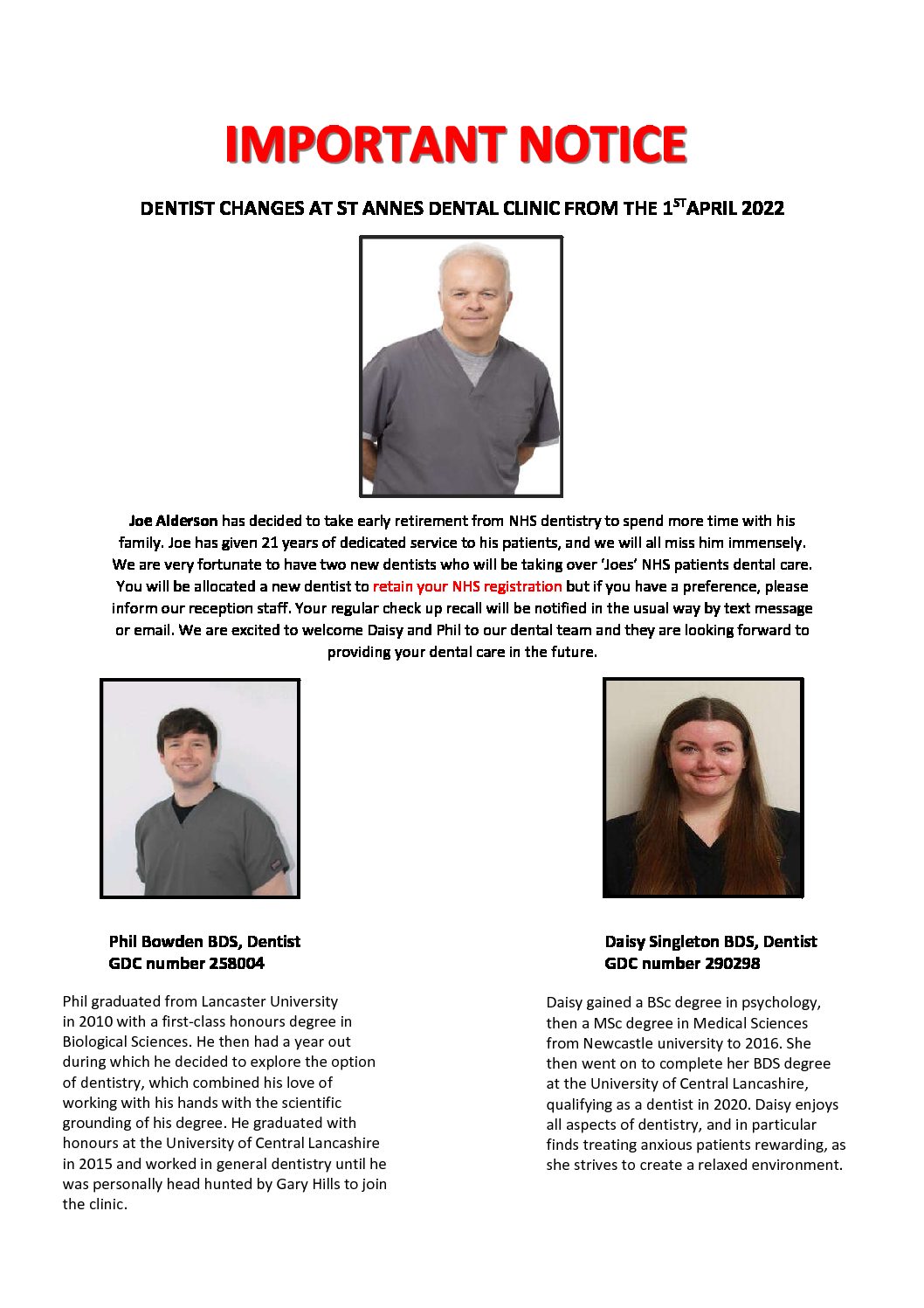 Testimonials
"Excellent service, my dentist (Daisy Singleton) made me feel comfortable from the start to finish! im very nervous but no need today! Daisy's nurse also put me at ease – job done very efficiently! thank you so much came out very happy! not forgetting the girls on the desk – lovely"
Excellent Caring Practice For Nervous Patients 
I am a very nervous patient, but not anymore after visiting the St Annes Dental Clinic, St Annes, Lancashire. This visit was an emergency visit as I was not registered with a dentist, but from the moment I arrived, I was put at ease by the dental nurses and the Dentist was just amazing. He talked me through everything on the Xray that had just been taken and totally put my mind at ease by explaining what was going to happen in a caring, kind, professional manner. I had to have my tooth extracted as it had cracked all the way to the root. I never felt a thing – Thank you so much St Annes Dental Clinic. There is no need to be nervous here – Highly recommend 100%
"I feel I must again praise the staff of the St Annes Dental Clinic for their pleasantness, professionalism, care, attentiveness – I could go on, for they exhibit many competencies in looking after patients, Ladies well done.
On a personal note I also praise Gary (with apologies to the other Dental Staff I have not met), I feel Gary appreciates my concerns about Dentistry as I must feature high on the "Dentists – No Chance" list.
I've been very lucky in my few visits at age 9, 23, 46, 62 to 67, the sixties being with Gary and only this week my Daughter commented "I never thought I'd hear you wishing for your appointment,"
I had split a tooth and I still have the fear of knowing what's happening so Gary sedates me, maybe I'm a coward but he treats me with concern, we manage a laugh and the next thing I know I'm back in the waiting room, saying I'm fine I'm off now, but Oh No not until the ladies check with Gary I'm good to go. With my friend who accompanied me and two ladies to escort me to our car. Absolutely First Class."
"All reception staff and dental nurses are so obliging and helpful and the "bandleader" himself Gary Hills, very impressive!
I was recently treated at your clinic as a new patient for a general check up and scale and polish.
I just wanted to extend my thanks to the reception staff for making it a pleasant experience and their professionalism.
Most of all I wanted to extend thanks to the clinician (Manesh) that treated me, mainly because I have suffered with a cosmetic problem and was desperate for a scale and polish and he did a fantastic job. This has been an issue for me for years of having "dirty teeth" and just that 15 minute session has literally improved my day to day life significantly, because I can actually smile without worrying about it. So I just wanted to let you guys know how much a basic appointment can make a difference to someone!!
"Mr Lad is great, I travel over 80 miles to see him, I would always recommend him. Me and my daughters continue to come because we have built up a great relationship with him and he always makes time to fit me in knowing how far we have come, thanks"
"Very obliging well run practice. Mr Lad is a very reassuring pleasant and capable dentist who I would recommend to anybody"
Dear Mr Hills, I would like to thank you very much for the fitting of my implant supported bridge. The care and attention over the last few months by you has been exemplary and I'm delighted with the finished result. Please thank your lovely staff too . . .
Dear Gary, Just to say thank you so much. The over denture you fitted is absolutely marvellous, you have given me my quality of life back. In addition I cannot praise yourself and your staff enough for the quality of care and attention I have received during the process. Once again thank you.
The decision to have teeth implants has been the best ever – every day I feel grateful for them. Not only does it mean I am able to eat and enjoy any food I like but also I am able to meet and greet my family and friends with much more confidence than before.
Hello Neil, I just wanted to thank you and your lovely staff for your excellent work and for taking care of me in the shaky, blood drenched moments! My teeth feel and look fabulous, all thanks to you, what a pro!
To Gary and all the ladies who attended me on 24/02/2017, you were all fantastic, from my initial visit some weeks ago I could not say I was looking forward to Friday. In the past ….. even my company dentist had to see me in the waiting room not his surgery. So yes I was extremely apprehensive. Ten O'clock arrived "Mr Croft" here we go. Injection – "you ok?" "yes fine" That was it! The next thing I knew I was in the waiting room trying to insist I was fine but the ladies knew better and would not release me until they were convinced I was ok to leave, even then I was escorted to my friend's care. Brilliant from start to finish . . . . many many thanks
Gary performed two extractions and an implant yesterday for me.
Please let him know I have had no pain and all the bleeding ceased yesterday evening.
Really pleased with the work and all the staff I encountered.
Many Thanks.
Thank you for everything you've done. Couldn't ask for anything more. I love my teeth now and I'm so glad I decided to get them done!
Lots of love,
Just wanted to say thanks very much for more excellent service today.
Not only did I get an appointment really quickly, but Dr Cookson was his usual lovely and professional self and wasn't even mad that I didn't book a follow up the last time like I was supposed to!
The girls on reception are alway really friendly and it makes what can be a scary experience much brighter. Thanks again for all round excellent service.